It's no secret that weddings can be expensive, but they will only be as expensive as you make them and can afford. Wedding planning can be a daunting task, especially when you're trying to stick to a specific budget. But don't worry, we're here to help!
Here are 10 tips to help you plan a wedding on a budget:
Set a budget and a priority list
This is the most important step when it comes to wedding budgeting. Everyone's budget is different and everyone's priorities are different. Budgeting carefully for your wedding is not the same thing as a budget wedding, it just means you want to make wise decisions with your money. 
Once you know how much you want to spend and how you want to prioritise your money, you can start planning where that spending will go. There's no use in planning a dream wedding if you can't afford it – so be realistic and write a priority list before you start planning.
Invest in a good wedding planner
If you're planning a larger wedding, a good wedding planner will be worth their weight in gold. They can help you stay within your budget, keep track of all your vendors and payments, and offer advice and support throughout the process. If you're thinking of getting a wedding planner, get in touch with Canababes' event planners to see how we can help and who we can connect you with. 
If your wedding is smaller and fairly simple then perhaps you won't need one. Or you will just want a good catering manager. It is an implicit part of catering that the team have to understand the timings of the day in detail anyway.  They are worth their weight in gold. 
Also if your venue is dry hire (an empty shell)  then the venue managers may recommend vendors who work in the space regularly and thus know how the space works best.
Shop around for vendors
Don't just go with the first vendor you find. Get quotes from several different companies, whether it's a venue, band, catering or bar.  For each item on your list, compare prices before making any decisions. Remember, the cheapest option isn't always the best – make sure you're getting quality for your money.
For example, when we create menus at Canababes, it isn't an off-the-peg solution, we want the menu to fit your dream idea, the guest demographic, and feel that the service style works for the space or venue you have chosen.  If you need a wedding caterer, get in touch and we can create bespoke menus based in line with your target spend, without compromising on taste.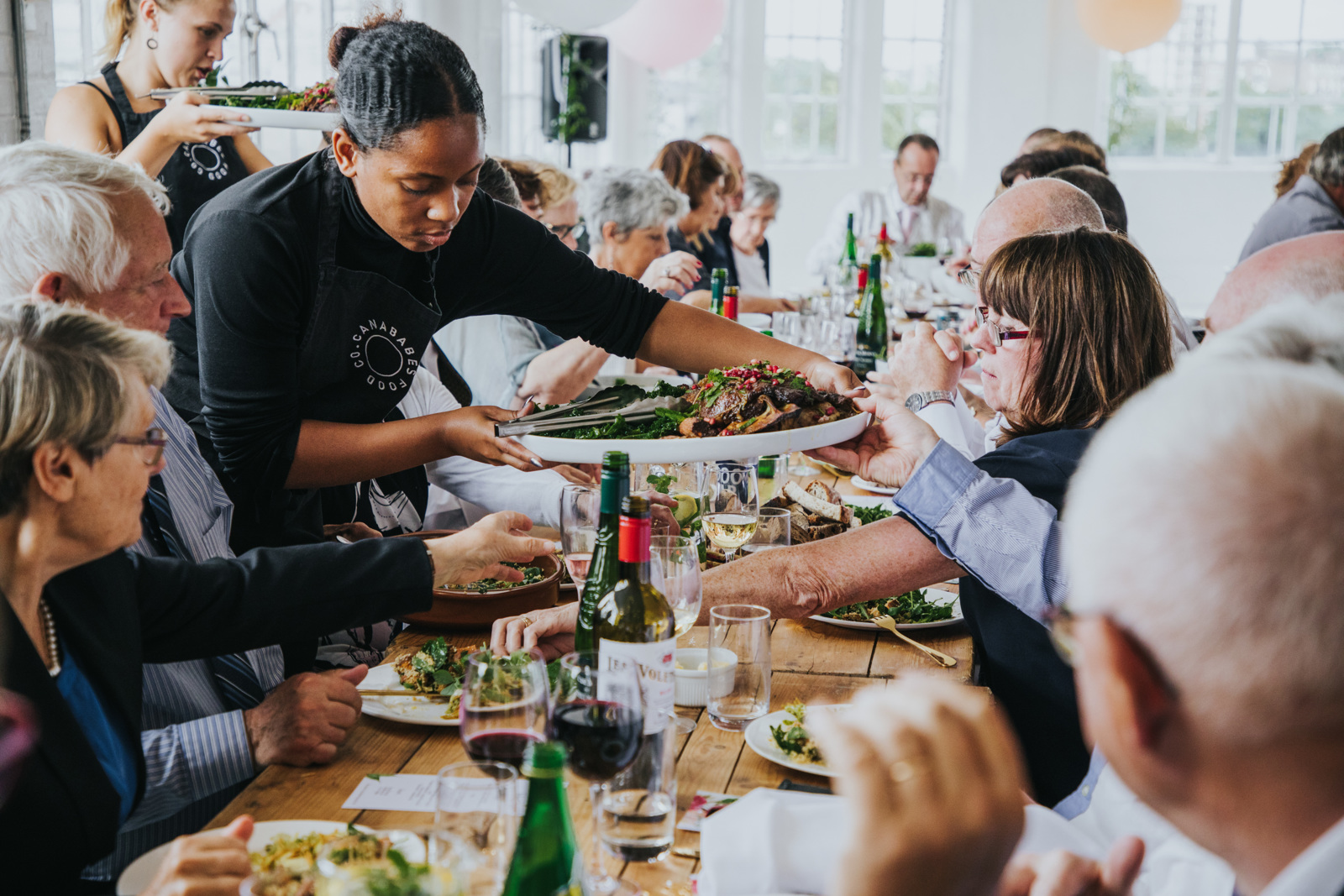 Be flexible with your date and time
Getting married during the "off-season" (typically November through April) can save you big bucks on everything from your venue rental to your flowers. And since most people get married during the summer months, an off-peak date will make your wedding feel even more unique and special.
For example, getting married on a Friday or Sunday instead of a Saturday can save you money on everything from your venue rental to your photographer's fees.
If you're willing to be flexible with your date and time, you may be able to get discounts or lower prices. 
DIY where you can
You have skills too! There are lots of areas where DIY will save money on your wedding. From decorations, flower arrangements, to invitations and the wedding cake, there are tons of projects that you can take on yourself (with the help of some willing friends or family members). Doing a little research online, or speaking to an experienced wedding planner will give you lots of ideas for easy DIY projects that will fit into any budget.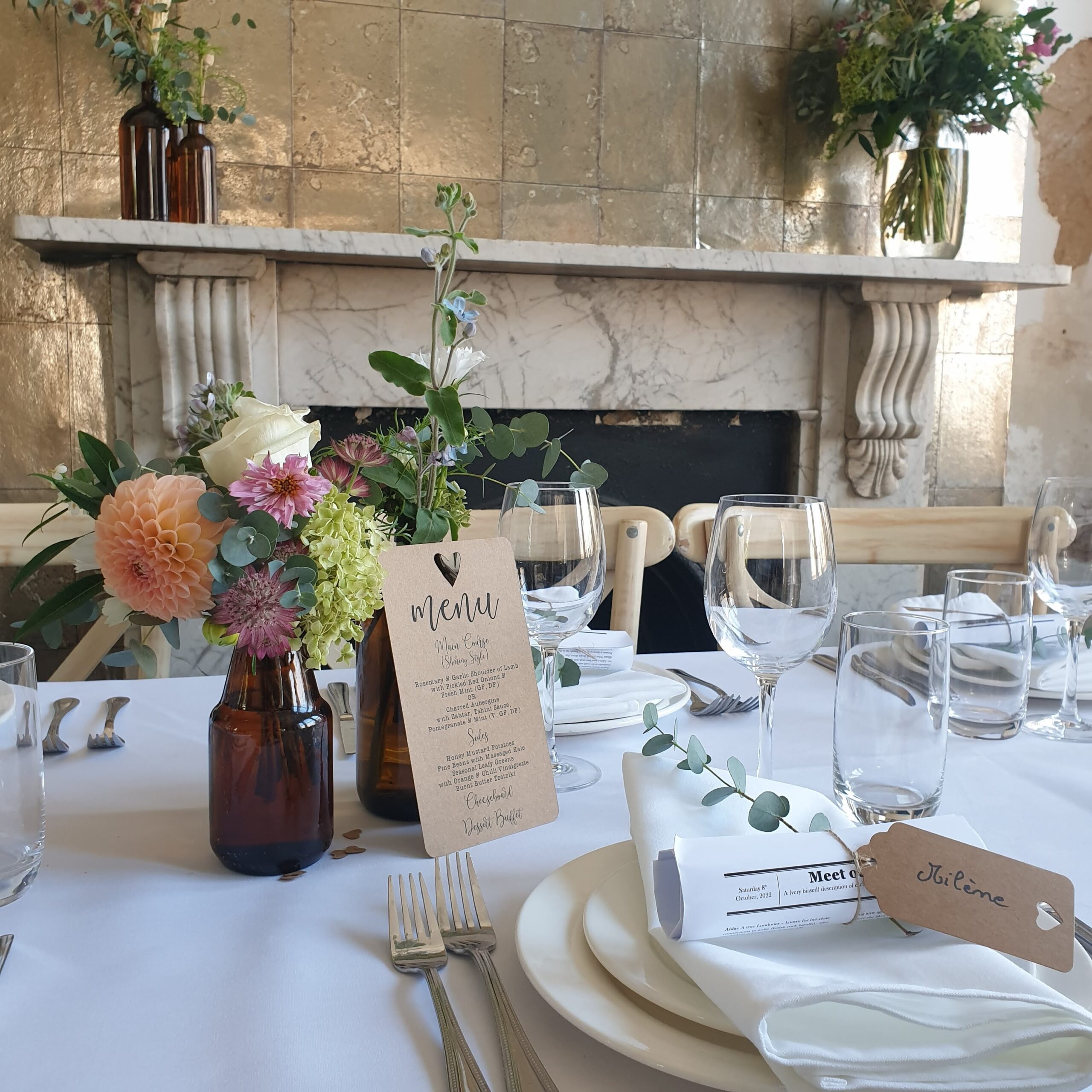 If the budget is going over – cut back on unnecessary expenses
Go back to your priority list and remind yourself what is important. It's definitely easy to be wowed and bamboozled by the many extra options you can add to your wedding which will lead to a lot of unnecessary expenses. If you're trying to save money, you can cut back on things like favours, cars, huge flower installations, multiple wedding outfits, or extensive bar catering. Why not buy your own alcohol, and invest the money in bar staff instead? Focus on the things that are truly important to you and your fiancé.
Guest numbers
Who is truly meaningful to us? This is a question you should ask yourself. One of the easiest ways to reduce your wedding budget is by cutting back on guest numbers. If you invite fewer people, you'll need less food, drink, and decorations – which can save you a lot of money in the long run. So if you're looking to trim your budget, start by cutting down your guest list and making your wedding more intimate. Maybe your Mum's old pal doesn't really need to be there!
Wedding Attire
If you're planning a wedding on a budget and need to get creative with your spending; one way to save money is to shop for second-hand wedding attire.
There are a few ways to find second-hand wedding attire. You can check out vintage shops, thrift stores, or online marketplaces like eBay, Bridal Reloved, and Sell My Wedding. All of these are great places to start your search.
If you don't want the traditional wedding dress, many high-street brands will release collections inspired by the wedding season for an affordable price.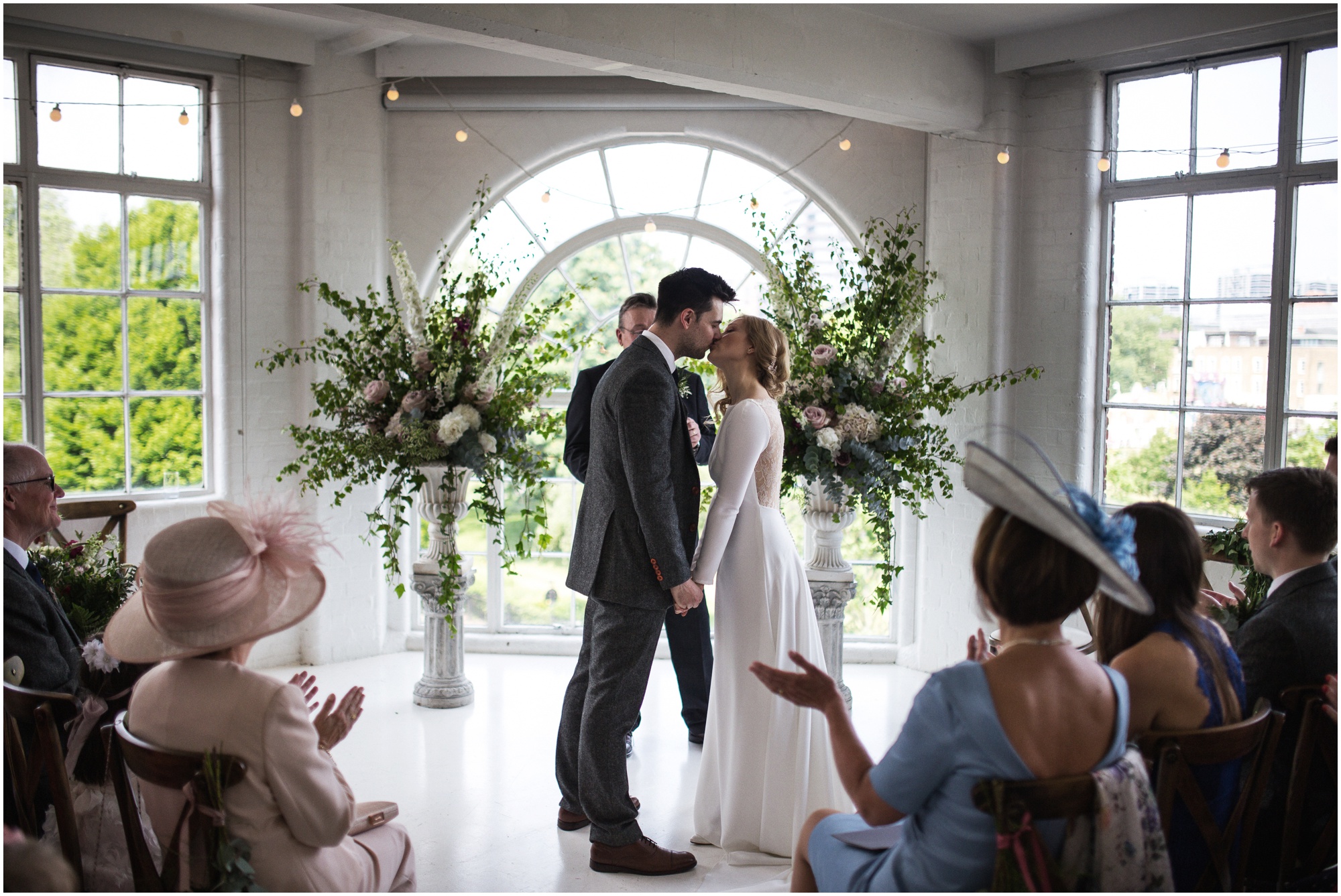 Help from family and friends
If you have family or friends who are willing and able to help out with your wedding planning, take them up on their offer! People love to have a role and get involved. You may have a friend who is a natural-born event organiser, or know someone with a large garden that could be turned into a wedding venue. Perhaps you have a cousin who is a DIY whiz or can assist in the kitchen. Even just having someone by your side to offer moral support is always useful. All of this can be a huge help – and it doesn't cost a thing, so don't be afraid to ask for help from those closest to you.
Choose a budget-friendly honeymoon
Last but not least, you want to be able to afford a romantic honeymoon. Plan ahead and be flexible with your dates; it might be cheaper to go on your honeymoon weeks or even months after the wedding. 
Another great idea is to have a honeymoon fund instead of physical presents. Often these days people are getting married later in life and they don't need the traditional wedding list from John Lewis – as they have already set up a home and have all the egg cups they can desire! Instead, you could ask for contributions towards your honeymoon. 
Be flexible with your destination as well. You could choose a destination where the living cost is lower, or where the flights are more affordable. You can also save on accommodation by looking out for cozy and unique Airbnb's rather than the honeymoon suite in a flashy hotel. Plus, you may find more affordable options by checking out all-inclusive holiday deals and last-minute holiday offers. 
Good luck with the wedding planning and trust that you can create a magical wedding even on a budget. If you need help from Canababes for ideas, organisation or contacts, we have multiple years of experience in planning weddings of all sizes and forms! If you want to find out how we can help you plan a wedding on a budget, get in touch with our team today. We hope this blogpost has been helpful.